Quick Comparison
The Shure SM7B is by far the industry standard microphone among top for streamers and content creators. The audio quality is rich, the mic itself is well built and reliable, and it is generally considered the best overall mic for streamers on Twitch, YouTube, and elsewhere. If you spend any time watching streamers or even podcasts you'll see this mic everywhere.
As good as it is, it requires either a pre-amp like the Focusrite Scarlett 2i2 or audio mixer like the GoXLR which can quickly run your audio setup close to $1000.
You can definitely get a good deal on them from time to time, so definitely check the price, but here are several good alternatives that will cost much less without having to sacrifice audio quality.
Similar Alternative - Shure MV7
Actually inspired by the SM7B, the Shure MV7 looks pretty much the same but slightly shorter. The difference is the MV7 is designed specifically for podcasting, livestreaming, and other applications where speaking and clarity are most important.
The other big difference is the MV7 has both XLR and USB, so you can make your choice what kind of setup you want to use. This means you can start with USB and upgrade to a XLR setup with a mixer when the time is right without having to buy a new mic.
The Shure MV7 retails for ~$249 $210 USD.
Pros
Option to use USB or XLR
Voice isolation technology built in
Slick design and reliable quality of Shure mics
Cons
Not quite (but close enough honestly) the same quality of audio as the SM7B
Requires arm/stand to mount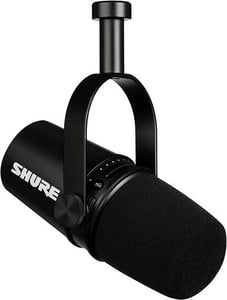 The powerful Audio Technica AT2035 is a great alternative to the Shure SM7B if you're still looking for a professional grade XLR microphone but want to save a few hundred dollars.
I know that several top streamers use or have used this mic such as Summit1g, Ninja, and TimTheTatman, and all have excellent quality audio in their streams.
The AT2035 can be found for ~$150 $145 USD.
Pros
Well known for smooth sounding audio that captures detail with low noise
Comes with shock mount and switchable high pass filter
Large diaphragm and solid, professional build quality
Cons
Still requires a mixer/amp
Requires XLR cord and arm/stand to mount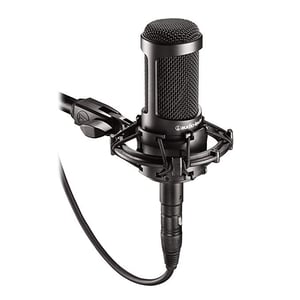 The stylish BEACN Mic has a very similar shape to the SM7B, and adds a cool RGB ring that really tells you it's designed for streamers and content creators. The difference at the core of this mic is that it's plugged in with a USB-C, meaning it's much simpler to just "plug and play", but will never get quite the full range sound like an XLR mic.
The BEACN mic works to offset this by adding an impressive amount of on-mic processing including background noise supression, and also comes with software that lets you customize the sound further. This can be done with either detailed controls for audio enthusiasts or simple options aimed for people who just want to get started quick and easy.
The BEACN Mic retails for $279 USD.
Pros
Great looking design (also comes in black or white)
Powerful on-mic and software based noise removal and sound customization
No need for extra mixers or amps, and plug and play USB-C connection
Cons
Won't match XLR sound quality
Requires arm/stand to mount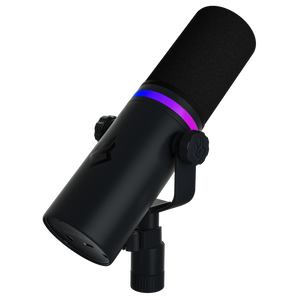 Budget Alternative - Blue Yeti
As far as budget USB mics go, the Blue Yeti has pretty much everything you need. It has four different pickup patterns, a built on stand, mute button, gain control, headphone plug, and USB for easy plug and play use.
Even at the cheaper price, the Blue Yeti gives a good enough sound that it comes off as professional. It gives any streamer a clear enough sound to stand out against headphone mics and cheaper alternatives.
The Blue Yeti can be found for ~$89 USD.
Pros
Everything you need built in
Solid metal build
Easy to use plug and play USB connection
Cons
Raw sound won't be quite on the level of more expensive mics
Not quite as stylish as other mics